Replace Harmful Scoliosis X-rays With Standing Scoliosis MRI Monitoring
Studies have shown cancer can occur 5 times as often in scoliosis patients 1 due to exposure to x-rays required throughout their treatment. This problem can be completely eliminated through the use of our 3 minute standing ScoliSnapTM Scoliosis MRI Monitoring. In fact, for most cases ScoliSnapTM can replace scoliosis x-rays requested by your doctor!
FAST:   Requiring only three (3) minutes to complete, ScoliSnapTM standing MRI is fast and easy.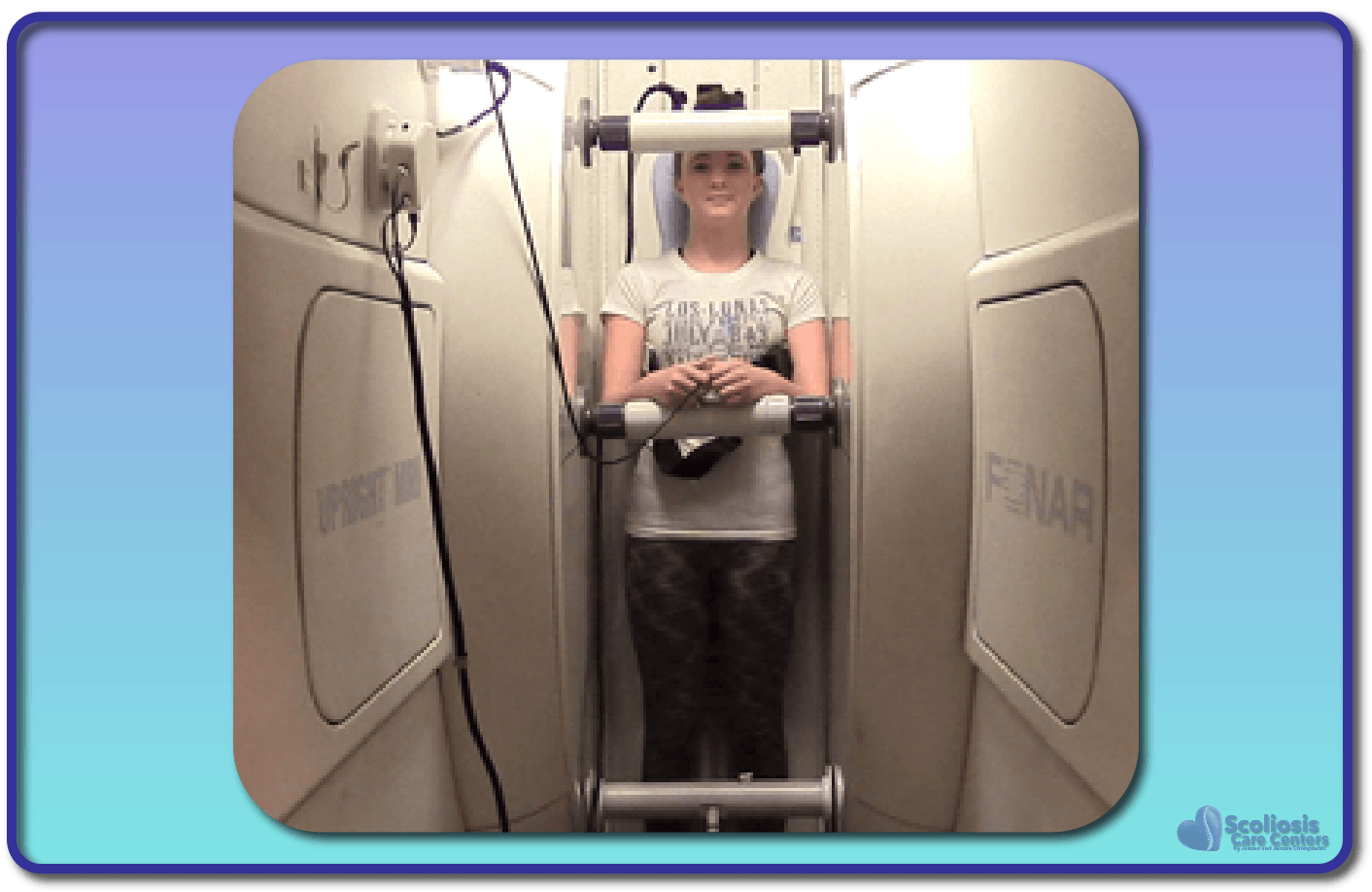 RADIATION-FREE:   ScoliSnapTM MRI monitoring is 100% radiation-free unlike x-ray.
CAN BE USED FREQUENTLY:   ScoliSnapTM MRI monitoring can be used as often as needed to closely monitor the spine unlike x-ray which needs to be limited to once or twice a year.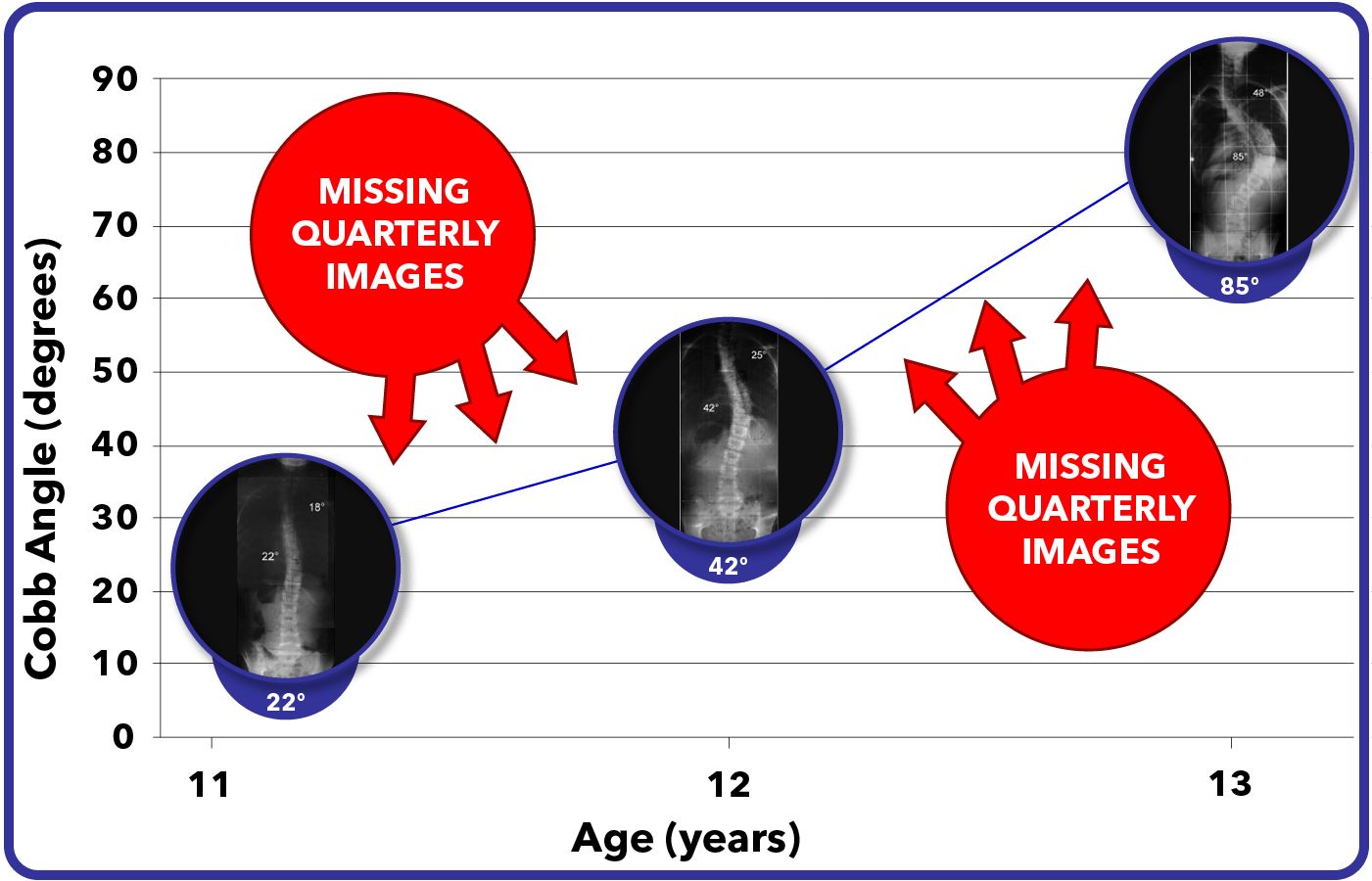 STANDING:   Unlike normal MRI machines where you lie down, ScoliSnapTM monitoring uses standing MRI so a curve can be accurately measured under gravity.
TRACKED PROGRESS:   The size of a scoliosis curve is tracked at each monitoring visit and is easily viewed in a custom graph showing your progress. You can find highlighted report features below.
Targeted Monitoring
ScoliSnapTM Targeted Monitoring uses standing MRI to look at a specific area of the spine where the curve is located.
Full Length Monitoring
ScoliSnapTM Full Length Monitoring uses MRI to look at the entire length of the spine, from head to hips.
What's the Difference Between Targeted and Full Length?
What's Imaged
As you can see in the picture above, the ScoliSnapTM Targeted Monitoring images the region of the spine where the curve is located. In contrast, the ScoliSnapTM Full Length monitoring images the entire spine from head to hips. Large curves or tall patients may require the Full Length Monitoring in order to see the entire scoliosis.
Additional Requirements for ScoliSnapTM Targeted Monitoring
Because ScoliSnapTM Targeted Monitoring only looks at a region of the spine, we need to know where the scoliosis curve is located to ensure it is imaged. Thus, at least one previous full length image of the spine (x-ray or MRI) must be taken in order to know where the curve is for a targeted scan.
Frequently Asked Questions About ScoliSnapTM Monitoring
Preparing for Your Scoliosis MRI Monitoring Appointment
So you've made an appointment for ScoliSnapTM MRI Monitoring, but what do you need to do in advance? We have compiled an ongoing list of important things to do before your ScoliSnapTM scoliosis monitoring appointment to make sure things go as smooth and easy as possible.
Make sure there is no metal in your clothing:   Some pieces of clothing (like a bra) can contain wire or other metal. Because MRI uses magnets to view the spine, no metal can be present in your clothing, or on your body during the ScoliSnapTM scan.
Take off any jewelry:   Be sure to remove any metal jewelry before your appointment because it can warm up or be pulled by the magnets in the MRI machine.
Go to the restroom:   The ScoliSnapTM standing MRI only takes about three minutes to complete, but to be safe, make sure to go to the restroom before your scan, especially if you are using the ScoliSnapTM Full Length scan which can take a bit longer to complete.
Prepare to stand still:   ScoliSnapTM requires you to stand still during the scan because MRI imaging becomes blurry if you move. To avoid the need of repeating the scan, be sure to stand as still as possible during your ScoliSnapTM.
Expect weird noises:   While the ScoliSnapTM is being performed, you will hear some strange noises which are completely normal. MRI uses magnets to look at the spine, and during a scan will make rumbles, clicks, whizzes, and other noises which can be surprising to say the least.
Frequently Asked Billing Questions
Unfortunately no. ScoliSnapTM standing MRI monitoring is not covered by insurance because of the pre-authorization requirements to obtain insurance coverage of MRI imaging. Additionally, due to the frequency of MRI imaging for scoliosis monitoring, insurance will not cover multiple MRI images per year.
ScoliSnapTM Targeted Monitoring costs $250 and includes a MRI scan of the targeted area of the spine as well as its accompanying report.
ScoliSnapTM Full Length Monitoring costs $375 and includes a MRI scan of the entire spine (head to hips) as well as its accompanying report.
For additional billing questions and inquiries, please see our Billing Support page or contact us and our staff will be happy to answer your questions.
References
1.  Simony, Ane; Hansen, Emil Jesper; Christensen, Steen Bach; Carreon, Leah Y.; Andersen, Mikkel Osterheden (2016): Incidence of cancer in adolescent idiopathic scoliosis patients treated 25 years previously. In European spine journal : official publication of the European Spine Society, the European Spinal Deformity Society, and the European Section of the Cervical Spine Research Society 25 (10), pp. 3366–3370. DOI: 10.1007/s00586-016-4747-2.
2.  Schmitz, A.; Jaeger, U. E.; Koenig, R.; Kandyba, J.; Wagner, U. A.; Giesecke, J.; Schmitt, O. (2001): A new MRI technique for imaging scoliosis in the sagittal plane. In European spine journal : official publication of the European Spine Society, the European Spinal Deformity Society, and the European Section of the Cervical Spine Research Society 10 (2), pp. 114–117. DOI: 10.1007/s005860100250.
3.  Wessberg, Per; Danielson, Barbro I.; Willén, Jan (2006): Comparison of Cobb angles in idiopathic scoliosis on standing radiographs and supine axially loaded MRI. In Spine 31 (26), pp. 3039–3044. DOI: 10.1097/01.brs.0000249513.91050.80.
4.  Auerbach, Joshua D.; Lonner, Baron S.; Dean, Laura E.; Goldstein, Yael (2009): The Feasibility of Radiation‐Free Diagnostic Monitoring in Adolescent Idiopathic Scoliosis using a Novel, Upright Positional MRI Protocol. E‐Poster #31. In Spine Journal Meeting Abstracts 10.