Coronavirus (COVID-19) Update to Our Patients and Their Families
Our clinic is currently open.
Travel for medical purposes is allowed under new (March 20th) travel ban.
Our clinic is currently open based on the current information from the CDC and WHO regarding Coronavirus and who is at risk. Children and individuals under 19 years old are at the least amount of risk for getting sick or developing serious illness.
If you are sick, stay home.
If you are sick, are starting to feel sick, have any symptoms currently described by the CDC, or are concerned you may be getting sick (ie. because of recent travel) please stay home and do not come to the clinic. Please stay home and follow official guidance related to self-quarantine and let us know by phone that you won't be coming into the clinic.
Anyone presenting cold or flu-like symptoms at the clinic will be sent home IMMEDIATELY.
While children and teens are not at risk, spreading the disease still is a concern. Out of precaution for others, anyone showing symptoms of being ill will be sent home from the clinic immediately.
Our clinic will remain open until guidance from the CDC and WHO indicate otherwise.
Based on current scientific information release from the World Health Organization (WHO) and Centers for Disease Control (CDC), disease in children is rare and mild. Because Coronavirus does not pose a risk to children and teens, and because fewer than 50 people are present in our clinic at any given time, our clinic will remain open until guidance from the CDC and WHO indicate otherwise. Coronavirus is a new and concerning disease but can be managed with the correct response and the vast majority of infected people will recover. People are thought to be most contagious when they are the sickest and are showing symptoms. We have provided highlighted information below from the official guidance provided by the CDC regarding prevention, sanitation, caring for others, and more:
Individuals 60 years old and over, and those with other health conditions such as high blood pressure, diabetes, cardiovascular disease, and chronic respiratory illness have the highest risk for severe disease and death
The MOST IMPORTANT PROTECTIVE MEASURES are frequent hand washing and covering your mouth and nose when sneezing and coughing.
Use hand sanitizer that is at least 70% alcohol and when washing your hands, wash them for at least 20 seconds.
Avoid touching your eyes, nose, and mouse; and avoid close contact with sick people.
Clean and disinfect frequently touched surfaces daily
Update (March 16): We are still open during the Santa Clara shelter-in-place order
With the current Coronavirus (COVID-19) pandemic occurring, we want to provide an update for our patients and their families and also provide links to general guidance on how to prepare and respond to Coronavirus appropriately.
Update (March 17): How we are protecting our patients
Hello everyone, Dr. Austin Jelcick here. I wanted to personally update you all on measures we are taking to protect the health of both our patients as well as our clinicians and staff. Having served previously as a Biosafety Officer in a BSL3 laboratory that worked with concentrated agents including West Nile, Encephalitis and others, I want to first reassure everyone who comes to the clinic that we are actively taking measures to minimize and prevent any exposure to Coronavirus.
In the lab, the key to preventing accidents and infection are sterile technique, proper protective equipment (PPE), and training to ensure all rules and procedures are followed. We know from the CDC and WHO that Coronavirus can remain on hard non-porous surfaces for up to 3 days. We also know that most viruses do not survive well on non-porous surfaces due to the lack of moisture, pH, chemicals etc. that expedite the breakdown of the virus structure. We also know from back in the early 2000s that different types of coronavirus survive worse on porous surfaces compared to non-porous surfaces. Viruses are not living and need a host to replicate; they are DNA or RNA with a "bad attitude". Thus the biggest hazard is Coronavirus lingering on hard non-porous surfaces. Because of this, we are disinfecting all hard surfaces and frequently used surfaces DAILY using Virex which is listed by the CDC as an approved disinfectant against COVID-19 as it is also effective against the related SARS virus. All surfaces remain wet for more than 2 minutes so ensure contact time is met and all surfaces are disinfected. You can read the approved disinfectant list on the CDC's website.
In addition to disinfecting the clinic, our clinicians have been equipped with N95 respirators approved by CDC and NIOSH. These masks help protect our staff as well as those around them from spreading any disease which can be transmitted. Per the CDC's recommendations, healthy individuals do not need to wear a mask, however because our staff come in contact with numerous people and patients throughout the day, our staff's masks serve as precaution to help prevent any spread of the virus.
It should go without saying, but all staff are performing thorough hand washing including use of alcohol based hand sanitizer (70% or more alcohol). We HEAVILY ENCOURAGE all of our patients and their families to wash their hands regularly in accordance with CDC and WHO guidelines. It cannot be stressed enough how much hand washing and avoiding touching your eyes, nose, and mouth helps in preventing the spread of infection and disease.
There is a lot of information flying around right now, and a lot of concern and panic. While Coronavirus is a serious concern, staying calm, practicing good hygiene, performing social distancing, and following official guidelines from reputable sources of infectious disease control (like the CDC and WHO) will get all of us through this crisis in time. As children and teens are not affected seriously by the virus, we want to ensure that no accidental spread occurs that can affect the families and friends of our patients, which is why we have taken the precautions and cleaning measures we have.
As the CDC and WHO update their guidelines, we will update our procedures accordingly. If you have an upcoming appointment and are concerned, or simply have questions regarding the measures we are taking against Coronavirus, please feel free to message the clinic on Facebook and I will ensure that each of your questions and concerns are responded to.
Good science and proper procedures will get us through this crisis, and we all will breathe a sigh of relief once we have toilet paper once again. Until then don't panic; wash your hands; don't touch your eyes, nose, or mouth; and remember contact time when you disinfect things around the house.
— Dr. Austin Jelcick, PhD
Update (March 18): Update following California and Federal Shelter-in-place Order
Hello everyone, Dr. Austin Jelcick here. As you have already heard, the state of California has issued an even broader "stay at home" order this week while the Federal government has issued a travel ban to Mexico and Canada. These orders still allow essential travel and also allow essential businesses to stay open. As a healthcare provider, we are classified as essential and will continue to remain open for our patients. Below you can find a graphic showing all critical/essential infrastructure with healthcare highlighted (outlined) in orange.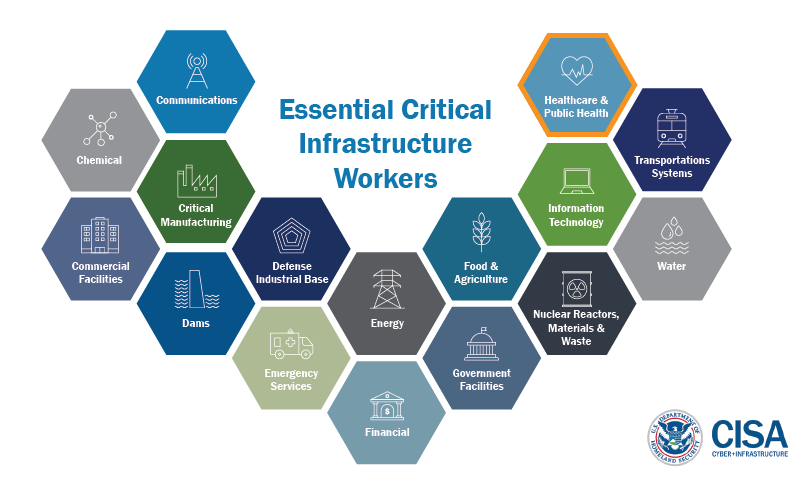 In addition to this, you have likely heard that travel restriction have been put in place limiting travel to "essential travel" both domestic and international. For all of our non-local and international patients this may sound as though you will not be able to travel for your appointment, but this is not the case at the current time. "Non-essential" travel includes travel that is considered tourism or recreational in nature. Travel for medical purposes is allowed with proper documentation. Please contact us for paperwork verifying that your travel is for medical treatment/purposes.
While the situation is very fluid and may change, for now our patients are able to continue to come to the clinic and receive treatment for their scoliosis so that their curves do not inadvertently get worse during the Coronavirus pandemic. We have provided a short video clip below highlighting the announcement where various types of allowed travel, including for medical purposes, is announced.
For our patients and their families coming to our clinic on Monday (March 23, 2020): We will be screening everyone outside the MRI center for fever using an infrared thermometer. If you have a fever or show symptoms (dry cough, sneezing) you will be sent home and not admitted. Additionally, we will be allowing one (1) parent or guardian to be present as to allow us to space each family 6ft apart in the waiting area to accordance with CDC guidelines for social distancing in waiting areas.
As always, if you have any questions or concerns about the measures we are taking to keep patients, staff, and everyone's families safe, please don't hesitate to contact us. Stay safe out there and we will see you for your appointments soon.
–Dr. Austin Jelcick, PhD
Update (March 30): Update following extension of Social Distancing Guidelines Until April 30
Hello everyone, Dr. Austin here. As you may be aware, the President announced yesterday that the social distancing guidelines have been extended until April 30th in efforts to continue to slow the spread of Coronavirus. Our clinic IS STILL OPEN and we are still DISINFECTING the clinic on a daily basis to ensure all patients, their families, and our staff are as safe as possible during this time. Our previous measures are still in place, with all staff and patients will have their temperatures taken, and social distancing has been enacted in our waiting rooms to allow parents/guardians accompanying their children to stay with their child but 6ft away from other families as much as possible in accordance with CDC guidelines. As always if you have any questions, concerns, or simple would like a link to reputable updated Coronavirus information through the CDC or WHO, please contact us and let us know!
— Dr. Austin Jelcick, PhD
Additional resources for information about Coronavirus, how to prepare, sanitize, and more: